The topic of the next publication is helicopter skydiving and everything related to it. You will receive a comprehensive guide on how to skydive out of a helicopter: you will learn about the features of helicopter and airplane skydiving, discover the best locations to skydive from a helicopter and experience unforgettable sensations, and learn about the necessary safety precautions to protect yourself in this truly exhilarating extreme sport.
General Information about Helicopter Skydiving
First, let's answer the main question that concerns many people: Can you skydive from a helicopter? Is it legal? Yes, of course. It has been a well-established and popular discipline for a long time. In fact, this activity is one of the leaders in terms of popularity.
Today, you can skydive from a helicopter on any continent except Antarctica, but who knows what the future holds! The number of extreme skydivers in this discipline continues to grow each year. It's not surprising since a skydiver jumps out of a hovering helicopter, similar to jumping out of a hot air balloon gondola or off a cliff.
This is what sets helicopter skydiving apart from its airplane counterpart, where the skydiver plunges into the sky at speeds of several hundred kilometers per hour. In other words, they continue to move not only straight down but also maintain some horizontal momentum. Those who have experienced both types of freefall say that helicopter skydiving is superior. Skydiving from a helicopter vs a plane. Here are a few arguments to support the helicopter:
Helicopter skydiving allows you to "hover over the abyss", feel the moment, and make decisions on your own. A skydiver steps from a helicopter by themselves. In an airplane, especially for beginners, skydivers are usually pushed out into the wind.
Due to the same momentum, the accuracy of the jump increases by tens of times – you can land exactly where you planned. For example, if you wanted to see a waterfall and capture it on a GoPro, you will not only enjoy the view and take shots during the flight but also land in close proximity to it.
Statistics show that accidents during helicopter skydiving occur less frequently than during airplane skydiving. This is partly due to the higher accuracy in predicting the landing point. However, accidents and casualties in both cases are primarily the result of carelessness on the part of the skydivers themselves. We will return to this later – don't stop reading, there's much more ahead!
Now let's move from the general to the specific and explore more detailed information. Let's start with an overview of the places where a high-flying helicopter can offer you this kind of entertainment.
Most Interesting locations for Helicopter Skydiving
If you search for information on this topic online, Swiss Interlaken almost always comes out on top. Undoubtedly, the Swiss Alps are an excellent choice for solo or helicopter tandem skydive. However, it's far from the only option. You can do it in the United Kingdom, Dubai, Australia, Europe, Georgia, and India. In the United States, there are several places where you can experience helicopter skydiving – California, Florida, Hawaii, as well as Los Angeles, Texas, and Vegas.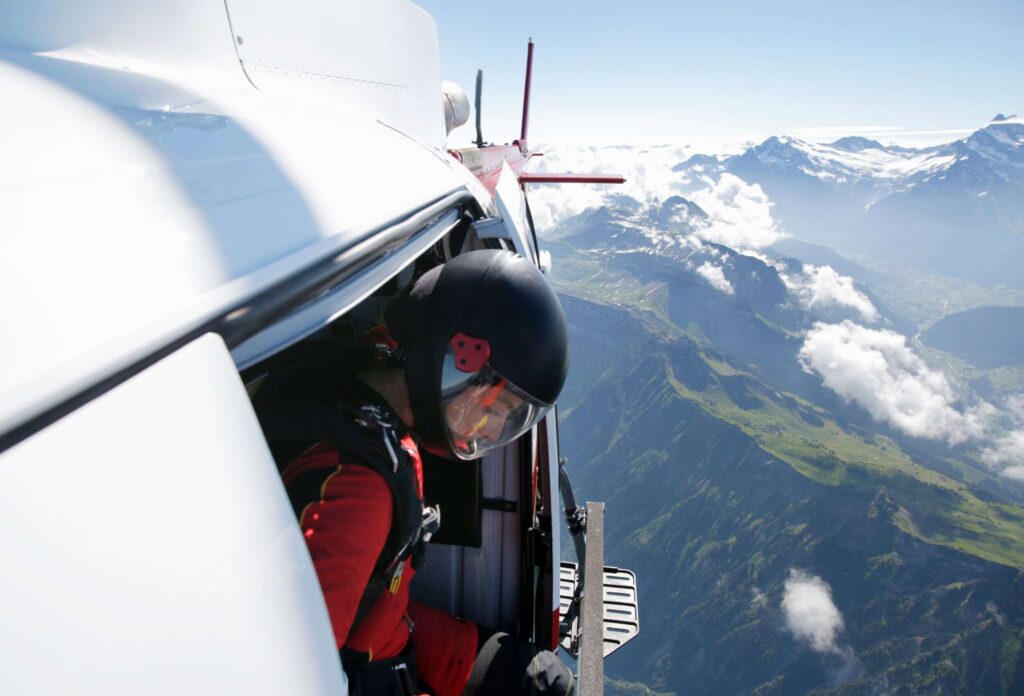 We offer you a comprehensive table (actually two) with places for such experiments. The first table lists well-known and popular locations, while the second one includes places that are gaining popularity. Each of the described places has its unique features. For example, some offer beach helicopter skydiving, while others provide incredible scenic beauty, and so on. The price for helicopter skydiving is also indicated for your convenience.
The Most Popular Among Tourists
| | | | | |
| --- | --- | --- | --- | --- |
| Location | Country | Price per jump (approximately) | Rating (10-point scale) | Description |
| Grand Canyon | USA | $300-500 | 9 | One of the most famous and thrilling places to skydive out of a helicopter. Skydiving and landing in the canyon offer breathtaking views of natural beauty and the grandeur of the canyon. |
| Interlaken | Switzerland | $400-600 | 8.5 | Located in the Alps, Interlaken offers incredible views of mountains, lakes, and picturesque landscapes. A helicopter ride over the Alps before the jump creates a unique experience. |
| Milford Sound | New Zealand | $300-500 | 9.2 | This fjord, located on the South Island of New Zealand, impresses with its beauty and wild nature. Helicopter jumps provide stunning panoramic views of the fjord. |
| Blue Mountains | Australia | $350-550 | 8.8 | The Blue Mountains is a mountainous region in New South Wales, Australia. Beautiful valleys, canyons, and waterfalls create an exciting atmosphere for helicopter skydiving. |
| Dubai | UAE | $500-800 | 9.5 | Dubai offers an unparalleled experience of helicopter skydiving with views of majestic skyscrapers, sandy beaches, and desert landscapes. |
| Paris | France | $400-600 | 8.2 | In Paris, you can skydive from a helicopter while enjoying views of famous landmarks such as the Eiffel Tower and Notre-Dame Cathedral. |
| Queenstown | New Zealand | $300-500 | 9.1 | Queenstown, located on the South Island of New Zealand, offers thrilling helicopter skydiving experiences with panoramic views of mountains and lakes. |
| Cape Town | South Africa | $400-600 | 8.7 | Cape Town offers a unique experience of helicopter skydiving with breathtaking views of the South Atlantic Ocean and the iconic Table Mountain. |
| Kleines Scheidegg | Switzerland | $400-600 | 9.3 | Kleines Scheidegg, located in the Swiss Alps, is an ideal place for helicopter skydiving, providing amazing views of majestic mountains and lakes. |
Where Can I Skydive Out of a Helicopter More?
| | | | | |
| --- | --- | --- | --- | --- |
| Location | Country | Price per jump (approximately) | Rating (10-point scale) | Description |
| Los Angeles | USA | $400-600 | 8.6 | Los Angeles offers an exhilarating experience of helicopter skydiving with views of iconic landmarks such as the Hollywood Sign, Santa Monica, and Malibu. |
| Texas | United States | $300-500 | 8.3 | Texas has several places where you can skydive out of a helicopter, such as Austin and Dallas. Beautiful landscapes and views of the vast expanse of Texas create unforgettable experiences for extreme sports enthusiasts. |
| Las Vegas | USA | $500-800 | 9.0 | Las Vegas provides a unique opportunity to skydive from a helicopter, enjoying views of the dazzling city lights and iconic attractions along the Strip. |
| California | United States | $400-600 | 8.7 | California is a fantastic destination for helicopter skydiving. From the Pacific Ocean coast to majestic mountain ranges, California offers diverse locations and stunning panoramic views for adrenaline seekers. |
| Florida | USA | $300-500 | 8.5 | Florida offers thrilling helicopter skydiving jumps above its beautiful beaches and famous attractions such as Miami and Orlando. |
| Hawaii | United States | $600-900 | 9.2 | Hawaii, the paradise islands, offers breathtaking helicopter skydiving experiences over its scenic landscapes, waterfalls, and volcanic formations. It is one of the most unique destinations in the world for extreme tourism. |
| UK | United Kingdom | $400-600 | 8.8 | The United Kingdom offers opportunities for helicopter skydiving above its beautiful landscapes and historical landmarks. Locations like London and Edinburgh provide a unique experience for extreme sports enthusiasts. |
| Georgia | Georgia | $300-500 | 8.4 | Georgia, located in the Caucasus Mountains, offers beautiful places for helicopter skydiving, revealing stunning views of mountain peaks, valleys, and picturesque landscapes. Tbilisi and Svaneti are popular destinations for this extreme sport. |
| India | India | $400-600 | 8.1 | India offers unique locations for helicopter skydiving, such as Goa and Rishikesh. The highlights include views of magnificent beaches, mountain ranges, and cultural heritage. |
| Rottnest Island | Australia | $500-700 | 9.0 | Rottnest Island, located off the coast of Western Australia, offers breathtaking helicopter skydiving with panoramic views of the crystal-clear waters of the Indian Ocean and the island's sandy beaches. It is one of the most popular destinations for extreme sports in Australia. |
Choosing a location is important, but preparation and adherence to safety requirements are equally important.
Requirements for Helicopter Skydiving, Preparation, and Safety
It is worth noting that the altitude of the helicopter during a parachute jump ranges from 800 to 4000 meters (approximately 2600 to over 13000 feet). Even with jumps from minimal heights, you will have at least 1500 ft to enjoy the flight under the canopy. Of course, this is if you meet the requirements and follow the rules described below:
Before making a jump, it is mandatory to undergo proper training and briefing – in any reputable company that respects itself and its amateur parachutists, this is not even up for discussion.
A skydiver steps from a high flying helicopter, and even in a completely normal situation, the landing is quite fast and hard – about the same as jumping from a three-meter height, which is significant. Therefore, making jumps with serious injuries, fractures, ligament tears in the lower extremities, chronic illnesses, or back injuries, epilepsy, and other serious disorders of the central nervous system (CNS) and the cardiovascular system is excluded.
If you value your life, never mix extreme sports with even a minimal dose of alcohol "for courage." It is a very dangerous combination.
Do not use the services of companies that do not have a good reputation or offer some dubious (including unrealistically extreme and exotic) types of jumps. This is precisely the deadly recklessness we mentioned earlier.
Thoroughly check all the equipment and memorize the instructions on how to behave during free flight, parachuting, and landing. This includes the rules describing emergency situations where the main condition is no panic.
An important point for beginners! We strongly recommend that you make your first jump in tandem – in the future, when you jump independently, it will be much easier for you to orient yourself in space, time, and your own actions. The price will be fully justified by the experience gained and the practical knowledge that will complement the theoretical training you received on the ground.
And no less important requirement for all parachutists, including experienced ones, is properly arranged insurance. It must definitely include extreme sports. Ideally, it should specify the specific types of activities you plan to engage in or be marked as "without limitations" (all types of extreme sports).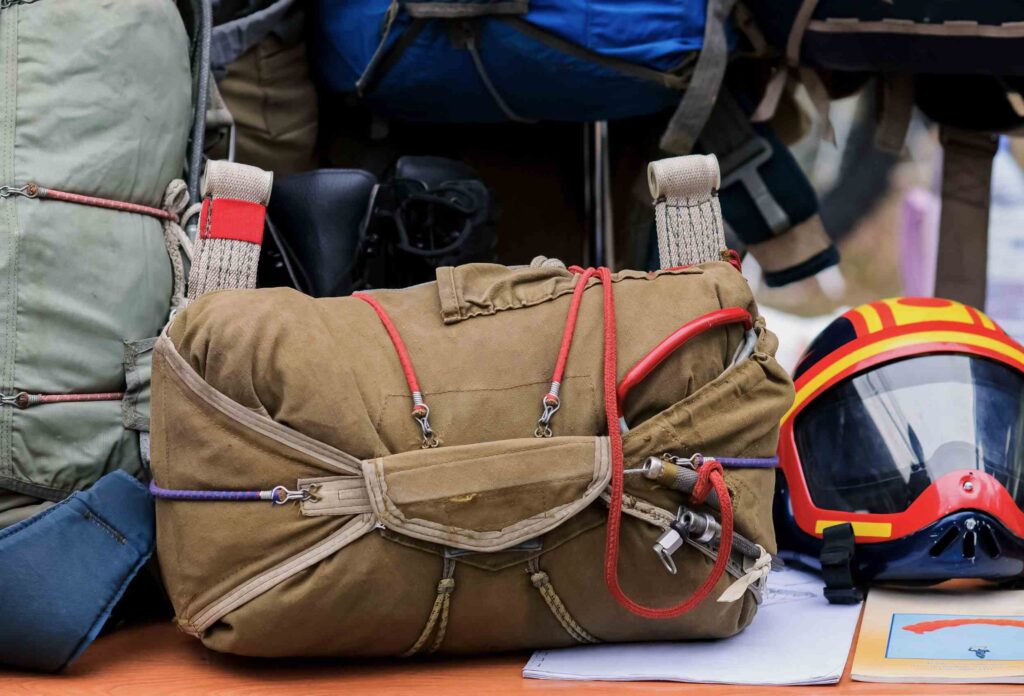 Lastly, it is worth mentioning that in this case, photos and real reviews during trip preparation and helicopter skydiving can be as valuable as the other important conditions mentioned above. If people express dissatisfaction and, moreover, directly write about safety violations and other unacceptable things, do not assume that such reviews are written by competitors. Just think, what if they are not? When you are in a helicopter hovering at high altitude, it will be very difficult to change anything.
We hope that the article has helped you find answers to many questions – in particular, whether it is possible to skydive from a helicopter, how to ensure your safety, and so on. We wish you success, health, and sound judgment in all your activities!