Snowmobiling travel insurance allows you to protect your health during your trip. It covers the cost of treating injuries and any possible damages incurred during sports activities.
Snowmobiling is an extreme form of outdoor recreational activity that involves riding a specialized vehicle in snowy terrain. It is typically equipped with a track system and a powerful engine, allowing snowmobiles to move across various surfaces, from specialized trails to frozen bodies of water.
Popular snowmobiling destinations include Canada, Alaska, and Iceland. Let's explore what these locations offer to tourists in different parts of the world:
| | | | | | |
| --- | --- | --- | --- | --- | --- |
| Location | Country | Difficulty | Tourist Rating | Average Price | Additional Information |
| Rocky Mountains | Canada | Moderate | 4.5/5 | $150-300 | Stunning panoramic views |
| Alaska | USA | Moderate | 4/5 | $200-400 | Amazing glaciers and wild nature |
| Iceland | Iceland | Moderate | 4.5/5 | $200-400 | Volcanoes, geysers, and hot springs |
| Lapland | Sweden | Low | 4/5 | $100-200 | Opportunity to see the Northern Lights |
| Snowy Alps | Switzerland | Moderate | 4.5/5 | $200-400 | Well-prepared trails |
| Garmisch-Partenkirchen | Germany | Moderate | 4/5 | $150-300 | Beautiful alpine landscapes and castles |
| Tromso | Norway | Moderate | 4/5 | $200-400 | Ice caves and waterfalls surrounded by mountains |
| Finnish Lapland | Finland | Low | 3.5/5 | $100-200 | Unique Sami culture and ski trails |
| Jasna | Slovakia | Moderate | 3.5/5 | $100-250 | Variety of trails for different skill levels |
| Rovaniemi | Finland | Low | 3/5 | $100-200 | Visit Santa Claus and snow castles |
This type of holiday is popular among travelers who want to enjoy the winter beauty and have a thrilling experience in another country. It is important to remember that snowmobiling carries a significant risk of injury, so it is necessary to follow safety rules and have reliable snowmobile travel insurance.
Common Injuries when Snowmobiling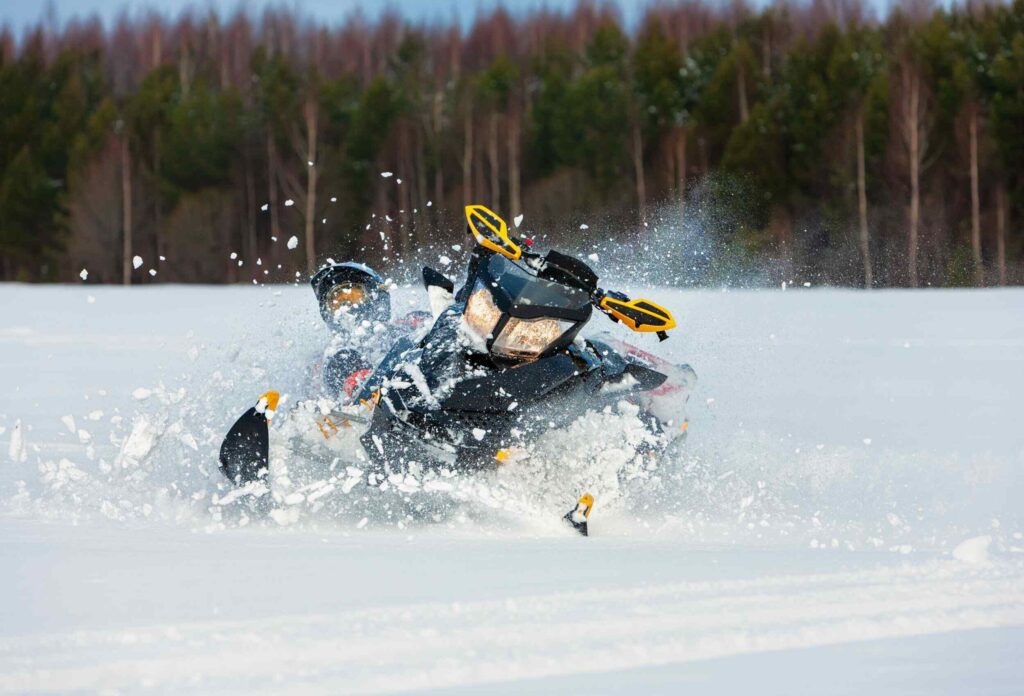 Injuries that can occur while snowmobiling can vary in severity. The most common ones include:
Fractures of the arms and legs: This typically happens when falling off the snowmobile or collision with other objects, such as trees.
Head injuries: If the driver doesn't wear a helmet, a head impact can result in a concussion, skull fracture, or more serious damage.
Hypothermia: In cases where the air temperature is too low or the rider is not adequately prepared for the cold, the risk of hypothermia increases. Additionally, if the snowmobile falls into an icy river, overturns, or gets stuck in a large snowdrift, the tourist may suffer from severe frostbite.
Cuts and bruises: Icy branches or bushes along the route can cause significant injuries, including corneal injuries to the eyes.
Important! Snowmobiling can lead to serious injuries and damage, regardless of your experience level. Therefore, it is important to be cautious, wear protective gear, and take care of your safety in advance by obtaining travel insurance for snowmobiling.
Features of Insurance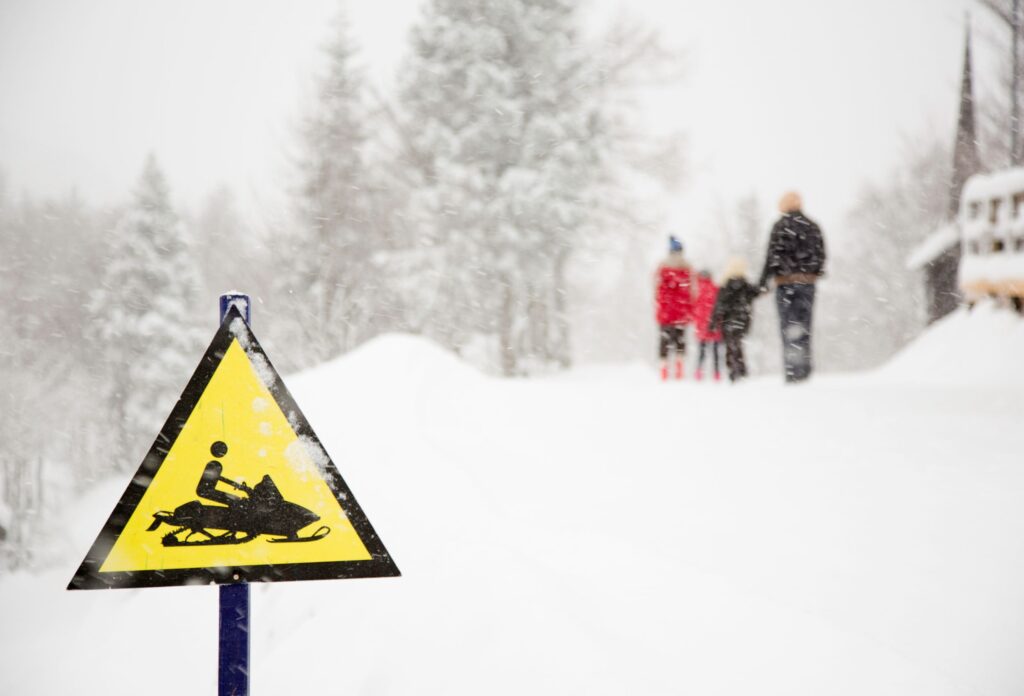 When choosing travel insurance covering snowmobiling, it is important to pay attention to the type of coverage. The best quote for insurance is full coverage of the cost of all possible damages and injuries. This includes liability insurance, health insurance, equipment coverage, and more. If you are looking for the cheapest option, a travel insurance policy for snowmobiling that covers only serious injuries would be suitable for you.
Single trip travel insurance including snowmobiling is the most affordable option. It covers only one visit to the country. However, if you plan to take multiple trips within 12 months, it is more advantageous to choose annual insurance.
Getting insurance online is a convenient and fast way to obtain coverage. It saves a significant amount of time and provides complete coverage for your trip in the shortest possible time. To choose the best travel insurance option for snowmobiling trips, it is worth considering the reviews of other customers.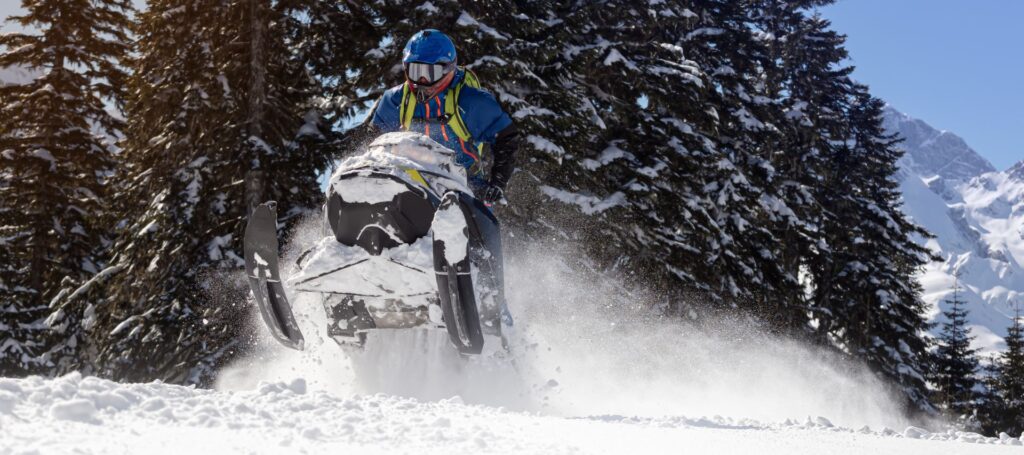 Thus, snowmobiling can lead to serious injuries. Therefore, to protect yourself and your equipment (or rented equipment), it is necessary to timely obtain affordable insurance that will allow you to fully enjoy your outdoor vacation.
FAQ
To select the best travel insurance option for snowmobiling trips, it is necessary to study the available coverage options, customer reviews, and cost, and choose the option that best suits your purposes during the trip.
How often should I purchase travel insurance for snowmobiling trips?
If you are planning only one trip for the season, a single trip insurance policy would be suitable. However, if you frequently travel abroad, it may be more beneficial to choose annual insurance.
What does travel insurance with snowmobile cover?
Coverage includes financial support in case of athlete's injuries, loss or damage to equipment, as well as liability for causing damage to third parties due to negligence.