Jet skiing travel insurance is an essential component of every trip, especially if a tourist plans to visit countries like Dubai, the UK, or the USA for engaging in active sports. Despite jet skiing being one of the most popular activities, it is considered dangerous and requires protection.
Features of Jet Skiing
Jet skiing is an exhilarating activity that allows you to reach high speeds on the water. This watercraft is a small boat equipped with a powerful engine and a handlebar for steering. Depending on the model, it can reach speeds from 70 to 120 km/h, so it is important to adhere to the established safety rules, exercise caution, and stay within authorized areas.
Jet skis are highly maneuverable, allowing you to perform various tricks. However, this requires a certain level of experience and the ability to control the equipment. Essential equipment includes a life jacket, and it is recommended to wear a full protective suit and goggles to protect against possible injuries.
Let's consider what different countries around the world offer:
| | | | |
| --- | --- | --- | --- |
| Location | Rating | Average Price per Hour ($) | Best Season |
| Miami, USA | 4.5 | 100-200 | Winter, spring |
| Sydney, Australia | 4.6 | 120-250 | Spring, summer |
| Dubai, UAE | 4.3 | 80-150 | Autumn, winter |
| Florida, USA | 4.7 | 150-300 | Summer, autumn |
| Ireland | 4.4 | 100-200 | Summer, autumn |
| Ibiza, Spain | 4.8 | 120-250 | Summer |
Important! Jet skiing is an exhilarating extreme sport. However, before venturing out on the water, it is necessary to learn the specifics of operating the vehicle and ensure the safety of yourself and your loved ones. Travel insurance that covers jet skiing activities is the optimal choice for health protection.
Travel Insurance Application
If you are looking for cheap travel insurance, consider buying travel insurance with jet ski cover. The policy provides medical coverage and additional equipment protection, which is convenient when engaging in jet ski rental.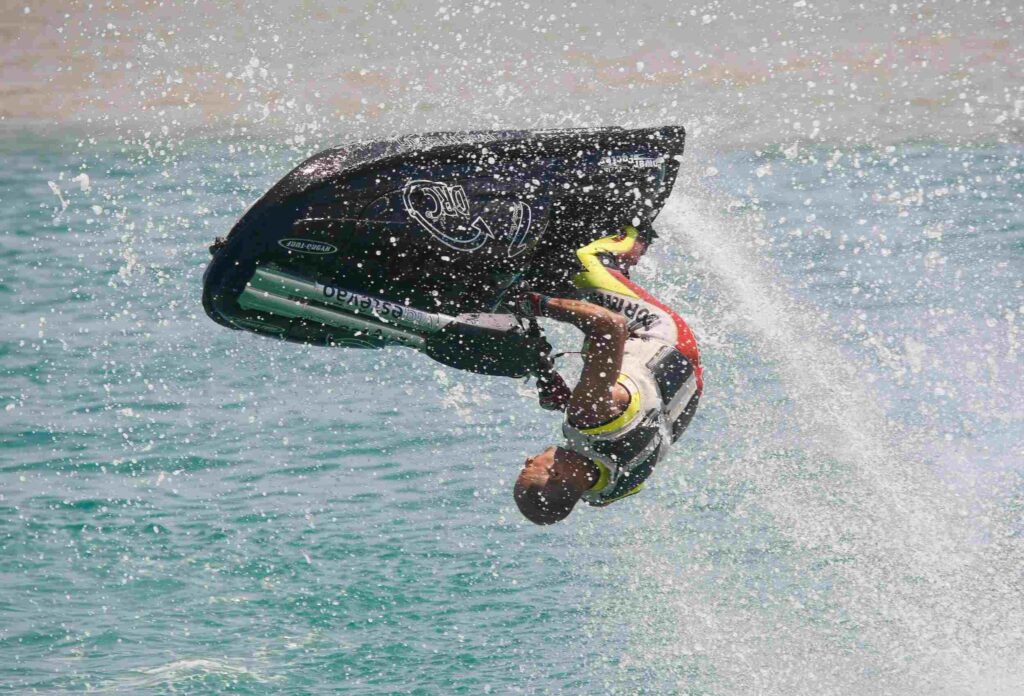 The company offers different levels of coverage, including life insurance, jet ski racing insurance, and liability insurance. You can choose the optimal option based on your goals and preferences. Coverage for children under 16 years old is also available.
The price of travel insurance including jet skiing depends on several factors. For example, the cheapest option is short-term insurance for one day, which covers only one day of activities. Full coverage for a single trip or multiple trips will be more expensive. Jet skiing travel insurance is suitable for visiting destinations such as Northern Ireland, Australia, Spain, the United States, Canada, Florida, and others.
In conclusion, travel insurance that covers jet skiing ensures safety during business trips or holidays that involve jet skiing activities. To find the best quote, it is recommended to explore the company's website, rates, and customer reviews.
FAQ
Why is jet ski holiday insurance necessary?
Jet skis are considered dangerous vehicles, which is why travel insurance is an important component for ensuring safety. The insurance covers medical expenses in case of accidents or injuries related to jet skiing, as well as public liability for damages caused to third parties due to negligence.
What is the average cost of jet skiing travel insurance?
The cost of jet skiing travel insurance may vary depending on the destination and duration of the trip. To find out the exact price of insurance for your specific purposes, you can contact a company representative or check online on the website. Specialists will assist you in comparing options and provide up-to-date tariffs.
What types of insurance are available for jet skiers?
The company offers jet skiing travel insurance, which includes coverage for health, life, liability, and racing.