Hang gliding travel insurance is the main aspect of safety for sports enthusiasts. Hang gliding is a type of active holiday that allows individuals to experience the freedom of flight and enjoy the beauty of the surrounding world. However, like any other extreme sport, it carries certain risks associated with injuries.
Most Common Injuries
Among the most common types of injuries that can be sustained during hang gliding are bone fractures. During landing or in the event of an accident, the hang glider may fall from a height, resulting in a strong impact on the pilot. Fractures often occur in the arms, legs, and hip joints.
Bruises and abrasions are also common injuries. They can be obtained from collisions with various objects during flight, such as:
Tree tops;
Birds;
Other pilots;
Rocky outcrops (when jumping off a cliff).
Additionally, while hang gliding, injuries related to water landing can occur. One can sustain serious damage to the head or spine after hitting the water surface, and there is also a high risk of drowning.
Important! To avoid injuries during hang gliding, it is necessary to follow all safety rules and use quality equipment. In case of injury, immediate medical assistance should be sought. Hang gliding travel insurance provides such an opportunity.
Insurance Features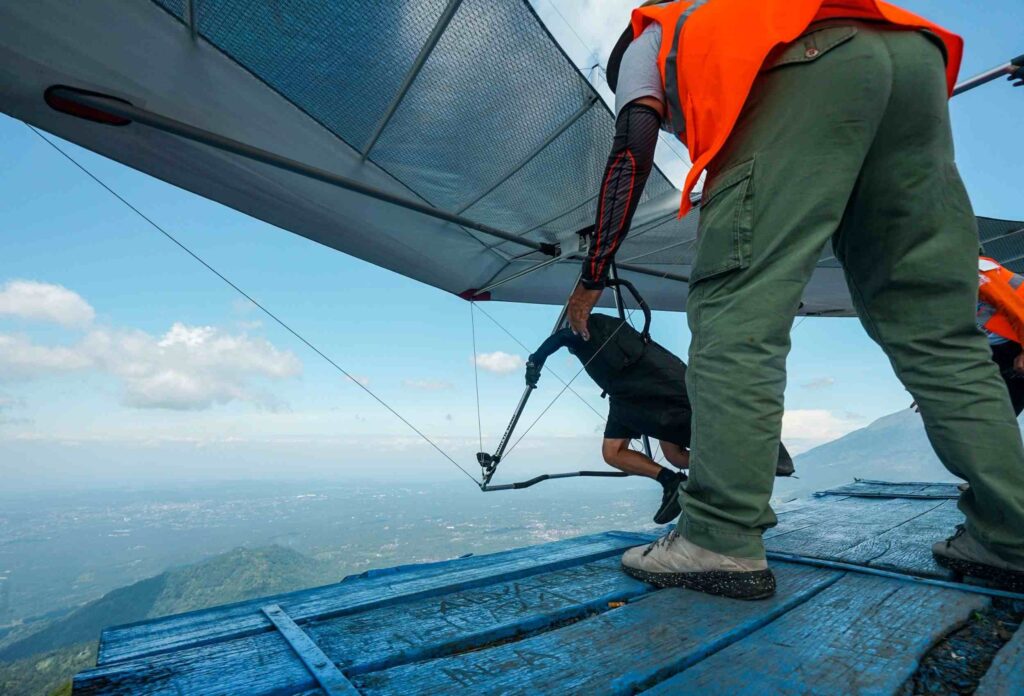 Proper insurance provides reliable coverage and protection in case of injuries or other accidents.
There are several types of hang gliding travel insurance that can be chosen based on your needs. The cheapest option is a single trip insurance, which only covers the duration of one trip. If you plan to take multiple hang gliding trips within 12 months, annual travel insurance would be a more suitable option. The cost also depends on the destination country. Let's consider what is offered to athletes in different parts of the world for practicing hang gliding:
| | | | | | | |
| --- | --- | --- | --- | --- | --- | --- |
| Location | Country | Tourist Rating | Cost (Average) | Weather Conditions | Seasonality | Difficulty Level |
| The Alps | France | 4.5/5 | $200-400 | Ideal weather conditions | Winter, summer | Advanced |
| Monterrey | Mexico | 4/5 | $150-300 | Thermal conditions, warm climate | Winter, spring | Beginner |
| Olympus | Greece | 4/5 | $200-400 | Camp winds, stable conditions | Summer | Advanced |
| Grand Canyon | USA | 4.5/5 | $250-450 | Good airflow, canyon thermal conditions | Spring, autumn | Professional |
| Cappadocia | Turkey | 4/5 | $150-300 | Unique rocky landscapes | Spring, autumn | Advanced |
The price of hang gliding travel insurance may vary depending on the type of coverage you choose. A cheaper option will only cover medical insurance, while a more expensive one will include life insurance, equipment coverage, and more.
FAQ
How to choose the type of insurance?
When choosing the type of insurance, it is necessary to consider customer reviews, cost of services, and available types of coverage. Based on this, you should select the option that best suits your vacation goals.
What does the insurance cover?
The policy covers not only medical treatment but also other expenses such as evacuating the injured, equipment protection, life insurance, etc.
How to purchase hang gliding insurance?
The insurance policy can be purchased online. Before making a purchase, it is advisable to read reviews from other users and ensure that the selected hang gliding travel insurance covers all the necessary services you require.