Travel insurance for water sports is an essential component of a safe journey. Water sports holidays are highly popular among tourists, featuring kayaking, surfing, jet skiing, and many other types of recreational water activities. It's a great way to get an adrenaline rush and enjoy the beauty of the sea landscapes. However, water-related injuries remain a significant risk for every athlete.
It's important to ensure that your adventure on the waves doesn't turn into an unpleasant incident. To achieve this, our company offers travel insurance specifically tailored for water sports. In the event of an injury, a standard insurance policy will compensate for the damages incurred. By obtaining an extended policy, travelers also receive protection against other risks, such as non-departure from the country due to unforeseen circumstances or loss of baggage.
Popular Types of Water Entertainment During Travel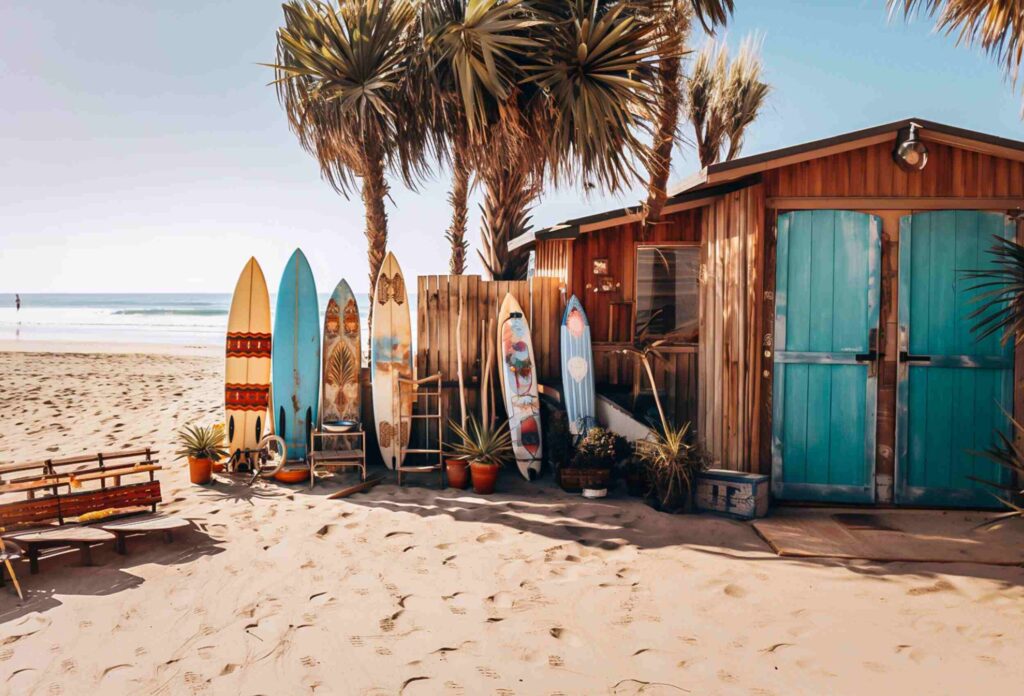 There are numerous types of water sports, each with its own characteristics. Let's explore the ranking of the most popular water entertainments:
Canoeing: Participants in this type of paddle sport demonstrate their skills in maneuvering a canoe. The athlete sits in a slim boat and propels themselves through the water using a double-bladed paddle.
Parasailing: Parasailing is a recreational activity where a person floats above the sea with a parachute. They are attached to a long rope connected to a moving watercraft, typically a boat.
Rafting: Rafting involves navigating water on an inflatable boat called a raft. Depending on the seating capacity (ranging from 4 to 20), rafts are used on various water bodies.
Water skiing: In this sport, the rider glides on artificially created waves generated by a boat. They wear specially designed skis for ease of movement.
Windsurfing: Windsurfing is a type of sailing sport that involves riding a board with a sail attached to it.
Diving: Scuba diving is underwater swimming, where a person descends into the depths of the ocean with specialized equipment to supply air.
Important! Diving into the depths of the ocean poses risks: encountering poisonous marine creatures and plants, sudden changes in pressure, panic, and limb cramps. To ensure your safety, it is recommended to obtain travel insurance with water sports cover.
Frequent Water-Related Injuries
The number of injuries occurring during water sports activities continues to increase each year. Most commonly, these injuries involve limbs (fractures, dislocations) and wounds resulting from the athlete's inattentiveness or unfortunate circumstances. For example, sharp objects such as small stones and shells can be encountered in the water. Mechanical injuries can also occur due to insufficient physical preparation for the exertion.
Despite there being more hazards on land, injuries on the water tend to be more serious. Athlete errors or equipment malfunctions can lead to ligament tears, various degrees of bruises, and, unfortunately, even fatal outcomes.
Jumping into the water from a height is particularly dangerous. A person can sustain an injury not only from a strong impact on the water's surface but also from rapid changes in pressure and temperature. Plunging into cold water can cause significant stress to the body, potentially resulting in loss of consciousness. Athletes often dive headfirst, exposing themselves to the risk of hitting the bottom and suffering spinal injuries.
Attention! Accidents can happen even in seemingly ordinary situations. For instance, a tourist riding in a boat may slip and break their arm while attempting to take a beautiful photo. Therefore, it is important to consider your safety in advance and purchase insurance coverage for water sports activities.
When Insurance Does Not Cover an Injury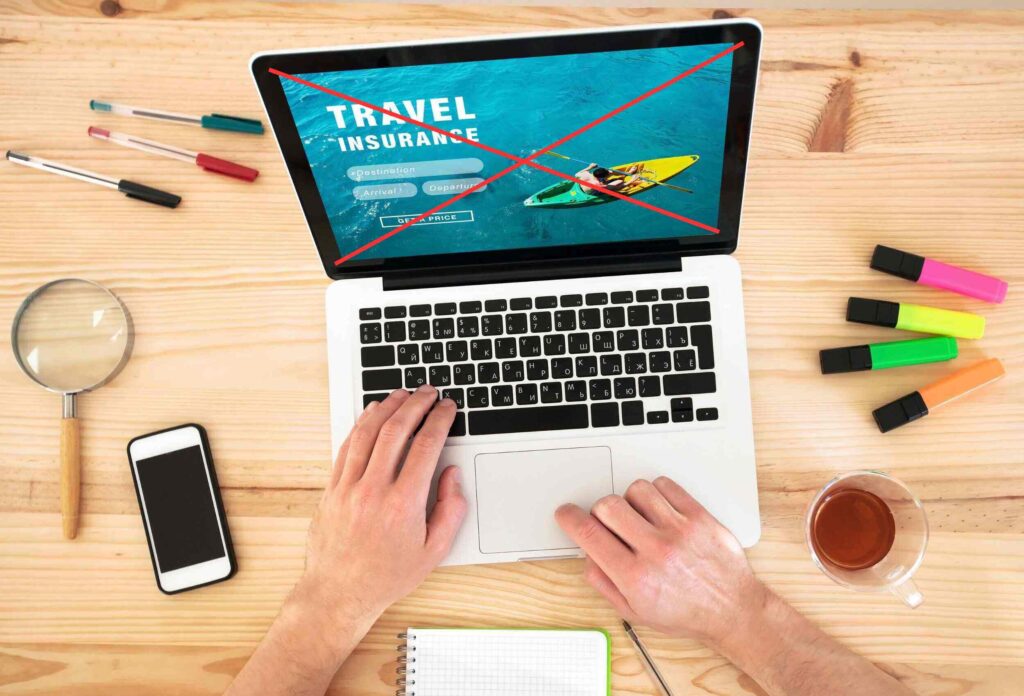 Generally, travel insurance for water sports covers all incurred damages. However, there are certain cases in which the insurance company may deny payment.
Chronic Illnesses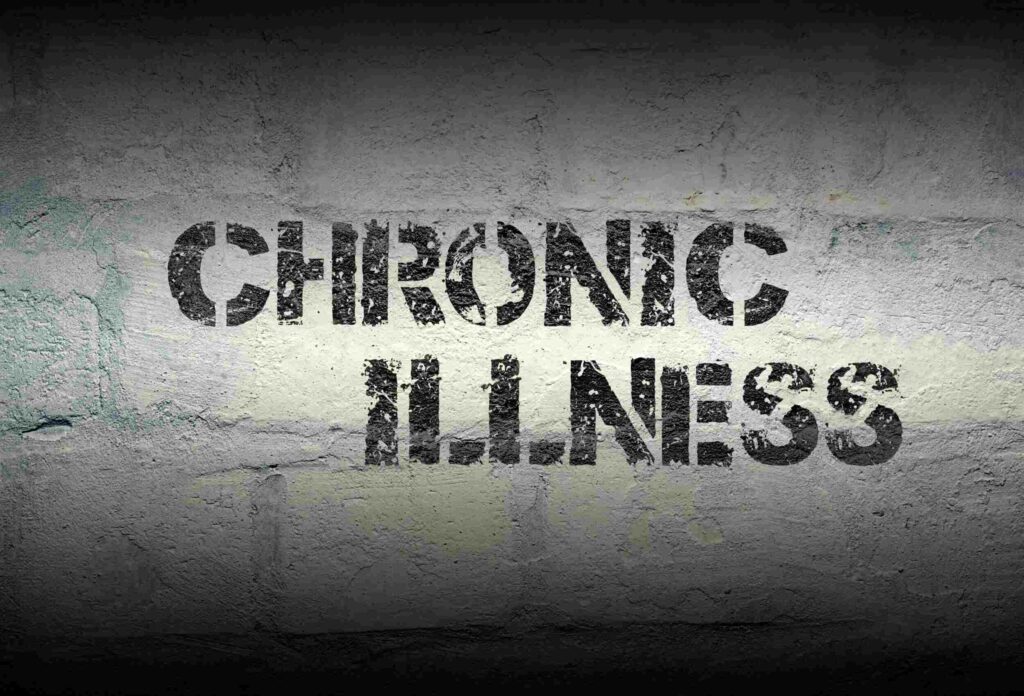 If a tourist with a pre-existing chronic illness seeks medical assistance for its treatment, the company may refuse to provide coverage for the examination. Travel insurance for water sports exclusively covers emergency treatment for injuries.
Additionally, in cases where the illness began prior to the insurance policy's inception, the insurance company has the right to deny coverage for expenses such as cast removal, stitches, and others. Assistance is also not provided to athletes with oncological, venereal, or mental illnesses.
Alcohol Intoxication
If the injured person was under the influence of alcohol or intoxicated at the time of the injury, the company will not cover their expenses. This also applies to the influence of narcotics and psychoactive substances. Such injuries are considered to be the insured person's fault.
Sunstroke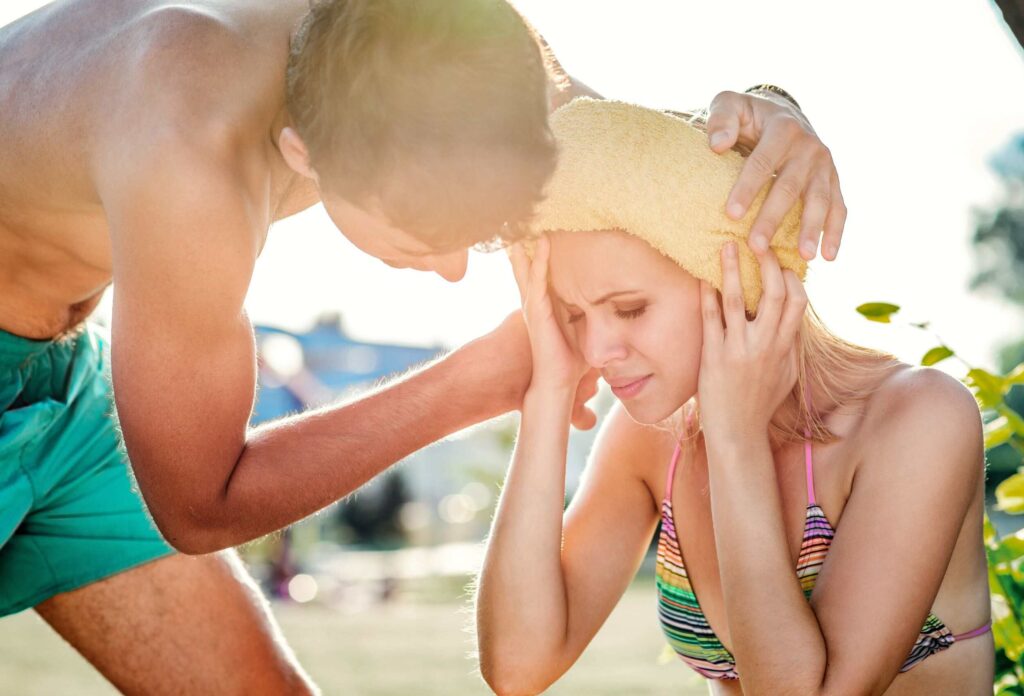 Expenses for the treatment of sunstrokes, burns, and the consequences of radiation are not covered, as they do not fall under the category of sports-related mechanical injuries.
Deductible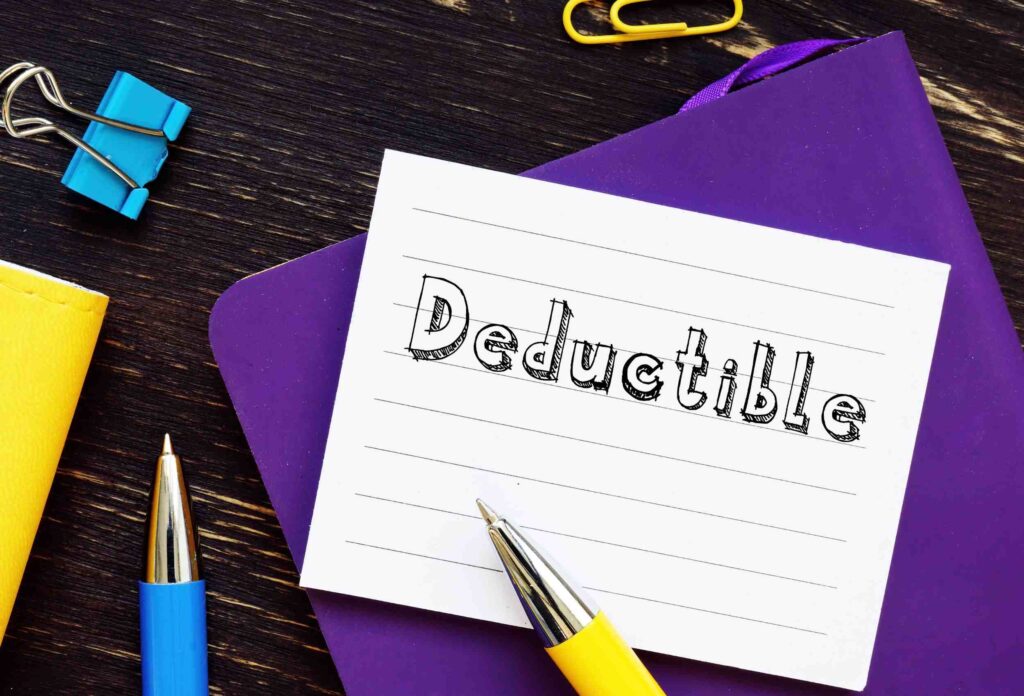 When entering into an agreement with an insurance company, they may specify the amount of the deductible, which is the portion of the insured tourist's expenses that is not reimbursed. The cost can be indicated as a specific monetary amount or a percentage. In simple terms, the deductible is a specific sum that the company will not pay. If the expenses do not exceed this amount, the insurer is not responsible for the client. However, if the expenses exceed the deductible, the company fully reimburses them.
Remember! Reimbursement is only paid up to the specified amount in the contract. If the tourist's expenses exceed this limit, they are responsible for covering the remaining portion of their medical costs.
Payouts in Insurance Coverage
The basic insurance policy can be obtained in three variants: for a single trip, multiple trips, or for a year. It includes coverage for:
transportation of the injured party to a medical facility;
emergency surgical and dental interventions;
inpatient or outpatient treatment;
early repatriation of the tourist to their place of permanent residence.
The water sports liability insurance contract specifies the amount of monetary compensation the athlete receives in the event of an incident. The sum may depend on the severity and type of injury. Generally, the more dangerous the injury, the higher the cost of coverage.
Extended insurance also includes protection for equipment and coverage for trip cancellation. If a tourist is unable to go on their trip due to reasons beyond their control (e.g., travel restrictions due to the Covid-19 pandemic), the company will compensate for the expenses. In such cases, it is advisable to insure against trip cancellation at least 5 days before departure.
Comparison of Prices for Water Sports Equipment Rental Worldwide
In the table below, you can familiarize yourself with the prices for popular water activities in various resorts, including insurance coverage for waterborne activities.
| | | | |
| --- | --- | --- | --- |
| Sport | Region | Equipment | Rental Price (per day) |
| Surfing | Bali, Indonesia | Surfboard, wetsuit, leash | 20-30 USD |
| Windsurfing | Canary Islands, Spain | Windsurfing board, sail, inflatable arm vests | 40-50 EUR |
| Kayaking | Croatia | Kayak, paddle, inflatable life jacket | 30-40 EUR |
| Water skiing | Mallorca, Spain | Water skis, ski boots | 50-60 EUR |
| Scuba diving | Crete, Greece | Diving equipment set, diving mask, breathing tube, fins, wetsuit | 50-60 EUR |
| Kitesurfing | Mexico | Kite, kiteboard, controller, wetsuit, vest | 100-150 USD |
| Wakeboarding | Orlando, USA | Wakeboard, bindings, tow rope, inflatable arm vests | 70-90 USD |
| Jet skiing | Florida, USA | Jet ski | 150-250 USD |
| Rafting | Alps, France | Raft, wetsuit, life jacket, helmet, paddles | 60-80 EUR |
These are approximate prices for equipment rental in different countries. The actual prices may vary significantly depending on the resort and the level of equipment.
Stay Protected Water Sports Holidays with Our Travel Insurance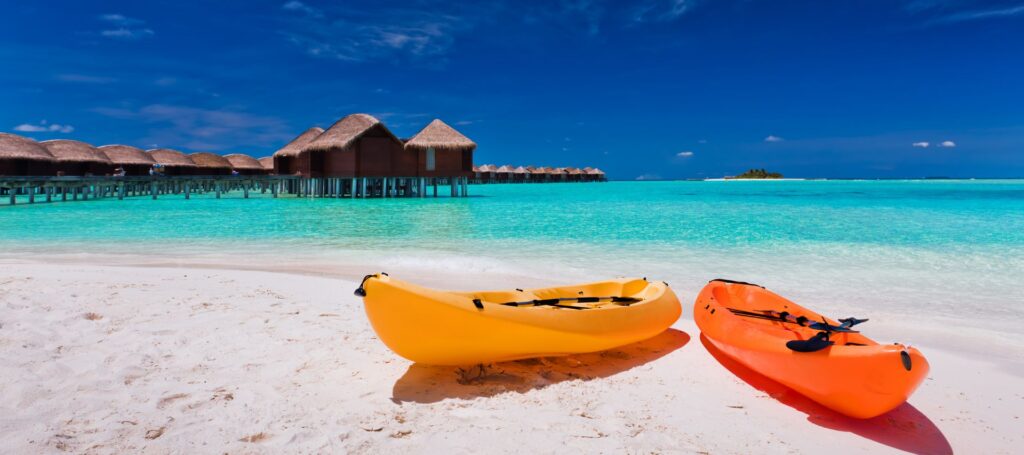 Travel insurance for water sports is an essential purchase for those who want to enjoy a variety of water activities, knowing that their health and equipment are protected by the insurance company.
Our services have received hundreds of positive reviews from professional athletes and recreational enthusiasts with whom we actively and continuously collaborate. You can purchase insurance online through our website by filling out the corresponding form. Contact us to buy affordable travel insurance including water sports!
FAQ
Does the insurance cover the loss or theft of my equipment?
The basic package does not include such an option, but you can choose the 'baggage' option, and in that case, we will pay you the first 50% of the insured amount within 24 hours in the event of an insurance claim.
Do I need to provide any medical documents or certificates to purchase the insurance?
No, you do not need to provide any.
From what age can I purchase water sports insurance?
We insure individuals of any age. However, if you are a pensioner, please select the appropriate option when applying for the policy.
Which types of water sports are covered by the insurance?
We cover all types of insurance for waterborne activities. Simply select the 'extreme sports' option. If you are unsure whether your specific activity is covered, please contact us.